Our Mission, Strategy, Values
OUR MISSION

WHAT ARE WE DOING?
blessing families in Woodlands through transformational community services
OUR STRATEGY

HOW ARE WE DOING IT?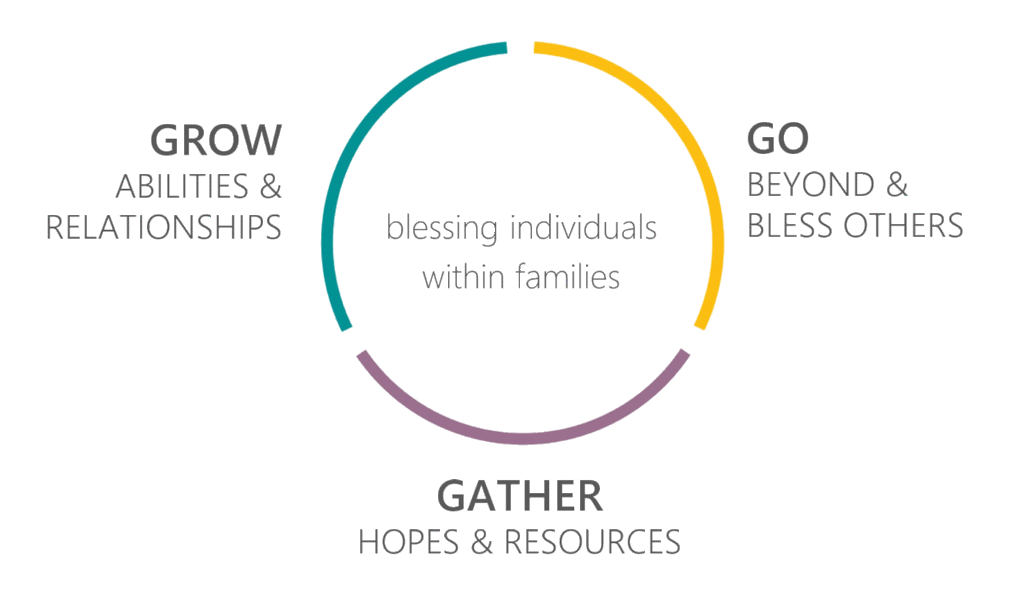 The Gather-Grow-Go Cycle is how we bless families in Woodlands and guide people towards transformation. This strategy is our overarching and comprehensive framework that guides our approach to people and the choice of programs we run. 
Gather Hopes & Resources 
We assess hopes and resources, helping clients to cultivate and articulate their own goals, hopes, dreams and aspirations. Our clients do this not only as individuals but in the context of their family.
Grow Abilities & Relationships
We grow abilities, skills and relational resources in our clients that help them to progress in their goals. Our clients grow in a way that benefits not only themselves but their family and community.
Go Beyond & Bless Others
We encourage clients to first achieve then go beyond their goals and aspirations. Our clients set new goals and become a resource who blesses others in the community.
OUR VALUES

WHO ARE WE AS WE DO THIS?
We are restorative, empowering, family-centred, and collaborative.
We are Restorative
We reshape false narratives twisted by brokenness, trauma, and injustice.
We work towards healing, dignity, and peace in our community.
We celebrate and affirm success in long-term journeys with each other.
We love by listening actively and speaking positively.
We are Empowering
We instil courage for change and exemplify the same resolve.
We harness strengths and coach through failures, so others reach their full potential.
We trust each other to overcome obstacles and achieve goals together.
We encourage professional development and outcome ownership.
We are Family-Centred
We strengthen families by involving all their members.
We look deeper into people's relationships and address underlying issues.
We stand by each other through life's seasons.
We value and respect each other with truth and integrity.

We are Collaborative
We identify strengths and resources in our families, so they overcome challenges.
We build communities of volunteers and professionals to support families.
We communicate and co-operate across boundaries of roles and responsibilities.
We ask for help, offer support, and contribute to team projects.